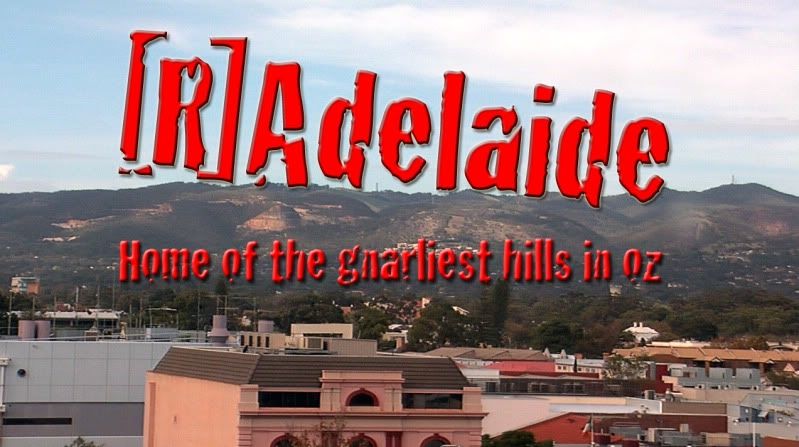 Jackson Shapiera:
The first time i visited adelaide was in 2008, i went down to check out the scene and ride some of the hills they had down there. What i did not expect to find was a landscape filled with so many hills of all different types, all quiet with barely any traffic and just begging to be painted with lines of urethane. There was so much potential for downhill skateboarding in this city that i made it my goal to keep coming back at least once a year, and in April/May of 2010 i was back for my 3rd trip.
This time i extended my usual trip by over a week, as you really need that much time to fully enjoy everything adelaide has to offer, not only in the hills but the scenery and culture. Once again i hung out with Leigh and Bow, the main men behind the scene down there and the guys who are really pushing the limits of downhill and scoping out new and awesome runs all the time. I spent a week with them touring the hills, shredding the gnar and capturing some amazing footage of not only all the action but the beautiful landscape and its surroundings.
Later on during the week i was joined by my fellow Sydney Shredders: Ben Hay, Kam Kite and Luca Coleman. It was really cool having these guys come down as we all got to shred in another location, bringing out own styles of riding to new styles of hills and really being able to push the limits of each other's skills and develop as skaters.
Leigh and Bow took us too all the gnarliest hills Radelaide has to offer and there was lots of shredding in the skin and the 'thane department. We skated from 9.30 in the morning until there was no light left, and not one dull moment went by. We returned to bow's pad for a few beers and checked out the footage and all got stoked for the next day - the first outlaw race to be held in South Australia.
The scene down there has grown so much since i first visited, the younger generation have started to pick up on the sport and are seriously ripping. There is now enough crew down there to start holding races, so Leigh decided to make the call and held a race at Eagle On The Hill - The original downhill spot for all adelaide downhill sktarers.
The day was epic, everything ran smooth and everyone got heaps of runs. We did a 'race to qualify' scenario that let everyone get to race at least 3 times, which was really cool for the people that were racing for the first time.
Racing the sydney boys and the Radelaidians was really tough. Each of the guys i came up against were extremely talented skaters who knew how to hold good lines and had awesome tucks, coming back from a severe ankle injury i was put in an awkward spot as my push is now under-average. I had to rely on race tactics and sandbagging to advance to further heats, and eventually these tactics allowed me to take the victory.
After the finals, it was only 11.45 in the morning, so we decided to take a lunch break and then have another race on the backup hill, which was a tight little urban run with a tight righty, tight lefty then a smooth sweeper with a straight to finish. It was a cool spot as it made the racing much tighter than on Eagle and was a good intro to the new crew about holding lines and having to adjust lines when things get heated.
Once again i was lucky enough to make my passes at the right spots and took the victory, with Luca and Kam followed close behind me. We also held a grom final and Lawrence really stepped it up and took the victory.
It was such an awesome trip and i definitely can't wait to get back there and shred with the boys again, Adelaide is definitely a special place to me, not only because of the hills but the lifestyle of the people down there is so chilled everything seems so much more relaxed. Such a great place to go and un-wind and also shred an epic amount of gnar at the same time.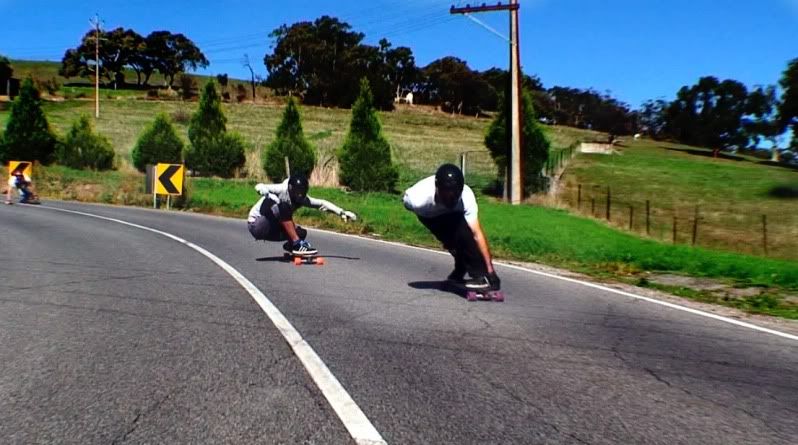 BenBro and Luca railing the righty at IronBank
Ben Hay:
Walking out of the airport in Adelaide,i was soon greeted by Michael Bowditch,a local radelaidian and Jackson Shapiera who had flown in earlier,after loading my gear into the car we were headed straight for the hills,wich was one of my main reasons for visiting Adelaide.
After a short drive through the beatiful city,we were soon amongst the picturesque rolling hills of Adelaide,and arriving at our first spot 'the warm up hill' as jackson explained it. We proceeded to shred this awesomely fun hill for a few hours,wich happened to have one of the best left hand corners ive ever skated.
We were soon to be joined by leigh Griffiths who had arrived to shred some gnar with us.
A few more runs there with leigh and we were in the car and heading to another ridiculously epic hill a short drive away, thinkin to myself ''if that was the warm up hill,how rad are the others goin to be!''
Over the next few days i got to sample some of Australias finest hills and had come to the conclusion that Radelaide is the home of gnar, and that our god Gnarshredius was alive and living in them hills somewhere.
Throughout the sessions i was fortunate enough to skate with many of south australias top riders, none better than my hosts for the weekend Michael Bowditch and Leigh Griffiths.
These guys are at the forefront in growing the adelaide scene whilst also progressing themselves into some of the countrys top riders.The success of the race that was to follow and the groms obvious admiration of their local heroes was living proof of this.
On saturday we were joined by Luca Coleman and Cam Kite who had flown in from sydney to be part of the radness, this is when the intencity stepped up a notch due to a combination of tight riding and highly technical hills.
After 2 days of epic freeriding with everyone tasting the gnar on numerous hills, it was time for sundays race. Another motivator that got myself and the sydney crew dropping everything and jumping on a plane.
Supported by Daily grind skate in adelaide and attended and run by the adelaide crew it was sure to be a great day.
The hill chosen was a perfect venue that provided close racing all day, with racers drafting and battling for inside lines. It was tactically challenging and provided plenty of opportunitys for passing. The local crew had the lines dialled from the start and were lookin hard to beat not to mention Luca, kam and jacko consistently going fast.
By midday the final contenders were known and the consolation final was underway with luca winning placing him fifth, Kam placing sixth overall,Dion seventh and local grom flyer Jonty rounding out the eight. It was now time for the final,wich saw radelaidians leigh Griffiths and Michael Bowditch lining up with n.s.w riders jackson Shapiera and myself Ben Hay.
Bowditch was super fast off the line with his powerful mongo push which saw him take an early lead followed by myself, jackson and leigh battling it out for Bows draft and positions into the first sweeping righty. On exiting the first sweeper jackson and myself passed bowditch with jackson taking the lead thru the first lefty,whilst bow and leigh were battling for positions they bumped into each other wich cost them some speed going into the last and most challenging left.
At this stage whilst hot on jackos heels i hit a crack and lost a bit thru the corner enabling jacko to add a few more metres to his lead,with leigh edging into third through the final sweeper and myself trying to get in jackos draft and leigh doing the same to me. The gaps were closing coming down the final straight, by the time i could make the pass it was to late with jacko crossing the line first, with myself in close second, leigh flying home in third and Bowditch forth.
Thank you to all the riders and marshals involved,was a great day racing and an epic weekend of riding,....ill be back.........Benbro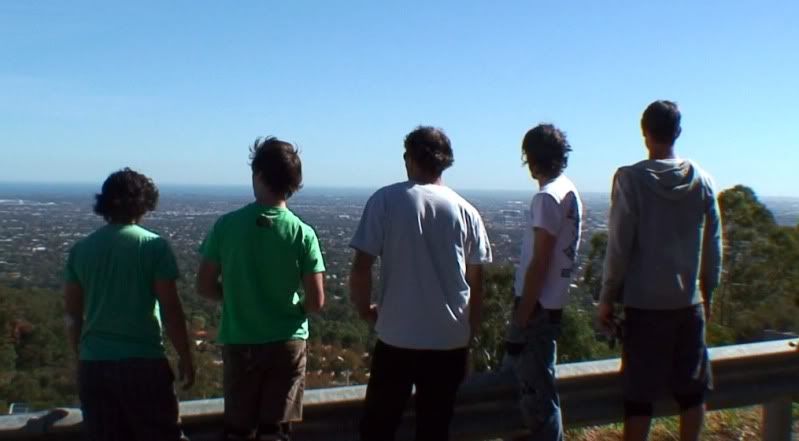 The view of beautiful Adelaide from the top of Mt Osmand
Cameron Kite:
As some of the other Ozzies styled it up on the slopes of the Goldy or battled for a place at the Pumpy, four Sneaky Sydney Shredders headed far south to Radalade in search of the Gnarly Grail.
To assist in our quest we hooked up with Radalades leading professors in the science of Shred; Michael Bowditch and Leigh Griffiths. The nerves were building as I was about to hit foreign tar however there was a relaxing reassurance that I was hitting it with the Sydney crew.
The first hill IronBank, a short little warm up run. Sick fast straight into a wide lefty hairpin with a sweeper at the bottom. Next on the gnargender was unbelievable. Hayward; a super fast super tech run took us all a bit to dial in but as soon as we did the hill felt like a gift from the gnar god Gnarshredius himself.
Moving on to Nortons Summit was a pretty chilled run stay in tuck for the most of it. Then the infamous corkscrew the Gnar factor is by far above 10 and videos do not do this hill any justice. Finally we hit Montacute another chilled run that also included a high gnar factor.
The next day pulling into the car park at Eagle for the outlaw I think we were all surprised at how many turned up to race. After hitting the hill for a few practice runs we were put into random heats and we raced untill there was 4.
If I could use one word to explain the outlaw it would be smooth. In and out super quick. Everyone had a sick time could not ask for much more.
I cant believe how much I took away from my Radalade trip but the most valuable lesson I brought home was the importance of our skate family.
Thanks Leigh and Bow!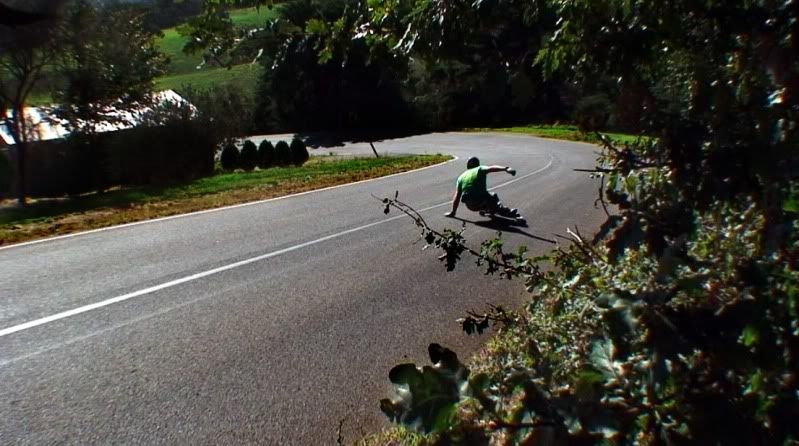 Jacko sliding into the lefty at IronBank
Luca Comelan:
Hell yeah I miss Adelaide already! Crazy, fast runs dotted all around the city in the surrounding hills. So rad having 3 other members of the Sydney crew down there and skating with Leigh and Bow. Jacko warned me and Kamakazy about the amounts of gnar in Adelaide before we arrived but nothing could prepare us for the radness that was gonna go down...
Super huge drops where your fanging like 70ks into the tightest hairpins imaginable. Washing off enough speed to make it through the pins was paramount and the boys were throwing dirty pendies and footbrakes till the road was covered in thane and the air smelt like burning rubber. A few crashes were had and skin was lost by all parties involved.
The race the next day was unreal, no hassle from the piggies and a solid turnout. The locals were on fire and I got smoked just before the line in both qualifiers so didn't make it to the final but it was Adalaide vs Sydney, 2 on 2 in the final.
I learned alot about biding my time in a race and not drafting someone just cos you can...you must hold off until the perfect time!!! mwahahahaha!!!! Also throwing pendies at speed...just a mental thing really. You just gotta bust 'em!! Congrats to the finalists and thanks to all involved
.
Leigh and Bow negotiating one of the tough corners on Hayward
Michael Bowditch:
The Adelaide outlaw weekend turned out to be a huge success, with a massive turnout to the race and also a big load of intense and high quality skating with the Sydney boys. Having the interstate guys come over was a great opportunity to skate in a large group and learn from each other, this is something which we do not get very often.
Benbro, Luca, Jacko and Kam all brought something new to the Radelaide downhill scene and skated insanely well. The outlaw event was heaps of fun and gave the young groms an opportunity to experience the thrill of a race whilst seeing the level of riding of some of the best skaters in Aus.
It was a really smooth event with no problems at all, it was so smooth that we had time for another race on the backup hill afterwards!! Overall the weekend and the outlaw was a major boost for the Adelaide downhill scene. It gave us a chance to test a small event, so that we could build on that to hopefully organise many more bigger and better events in the future.
Willunga ripper Dion really stepped it up on outlaw day
Leigh Griffiths:
Yet another awesome week in the Radelaide hills with outsiders. There aren't many of us rockin the DH scene here in Adelaide, so getting the opportunity to ride our hills with some of Aussie's tops is awesome! It seems whenever someone comes here to skate with us, our skills jump a level and we start to shred the hills harder than ever.
Jacko, Kam, Ben, Luca all brought different styles which we could study and learn from as we were flying down mountains side by side at 70+k/h. And not only did we get the chance to session the Adelaide Hills with these rad fellas, but we got to race them in an outlaw we'd organised as well.
The Eagle Outlaw was a huge success. Everything went so smoothly and everyone was stoked, especially the groms. It was a great experience for me as the organiser of Adelaide's first race and I know there will be more events to come. When I set the date for the outlaw I made sure it was going to happen when Jacko was in town.
It wasn't long till the word spread between Jacko's Sydney crew and soon we had the other 3 flying down to give us a run for our money. It was great for competition and it created some serious close racing in the finals. At the end of the day it was all about the tactics on that course and Jacko's experience definitely showed as he took 1st place. The top two groms got their "Daily Grind Skate Co." vouchers after they proved they were the fastest on the day especially Laurence "Manchild" Lombardi.
The whole week was great for the Adelaide scene and gave everyone a good insight into the promising outlook of the future. With various parties starting to catch onto the scene including "Daily Grind", it is great to see the support and interest that is quickly growing in South Australia.
I can't wait for the next Adelaide event and hopefully we can make it even bigger and better than the first. I LOVE DOWNHILL SKATEBOARDING!!!!!!!
The groms were out in full force on outlaw day and showed the older blokes they will have some competition very soon!