On Sunday the 7th of March, skaters from Canberra and Sydney gathered in Kangaroo Valley on the South Coast to compete in the first Outlaw race to be held in NSW. The event was proudly supported by Adrenaline+ had been organized by the Canberra 'Dirty Downhill' crew Owen Davies and Henry King and went off without a hitch. The day provided some fast racing and plenty of sideways action.
The hill was located at the bottom of Kangeroo Valley, near one of the Sydney Downhill crew's favorite hills '7 Pins' and consisted of fast sweeping turns into a ridiculously tight and steep left hand hairpin before the finish line. Racers pushed off from the start line and swapped leading positions in a drafting battle all the way down into the corner where numerous lines of urethane were painted across the road along with plenty of skin. It was surely a test of who could hold their lines best after washing off speed from around 75k's to a slow 15-20k's to make the corner clean. There was a mix of styles with some riders getting seriously sideways and sliding heavily into the corner while others were throwing down long and hard footbreaks with plenty of smoke pouring from their shoes.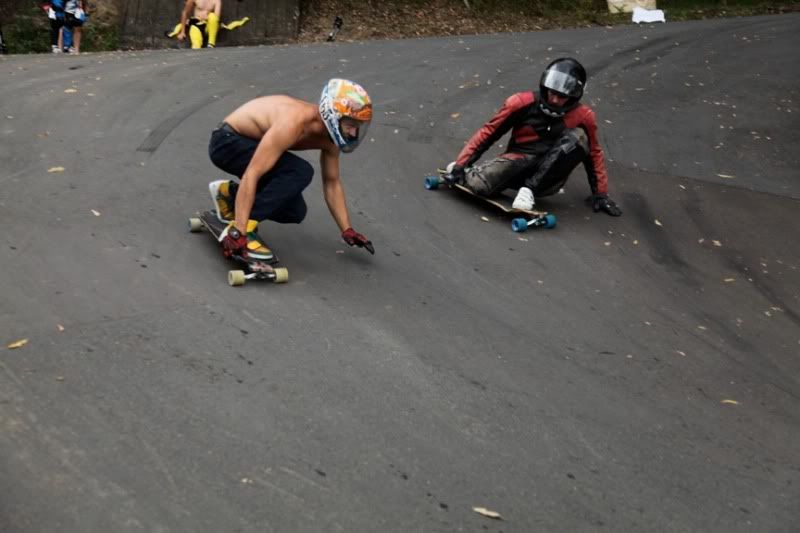 Hugh 'Kibbling' Johnston and Henry King showing off some close racing
The format for racing started off with a round-robin style points system, with 10 heats run awarding points for higher positions and then tallied to seed 4 riders into one final heat to determine the winner and runners up. Each rider was carefully seeded into the first 10 rounds to ensure they got to race 4 times and faced every other rider twice.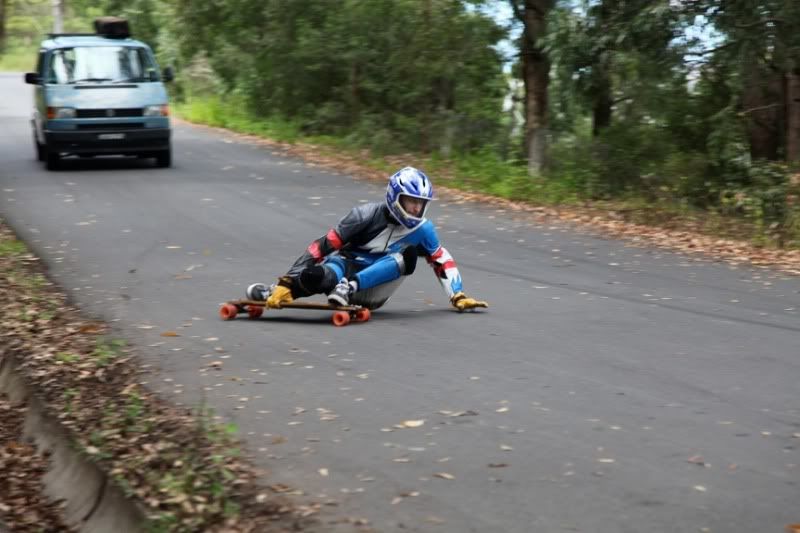 Colin Beck (aka Bugz) was showing some style all day
After all the primary heats were run there were 4 riders on the start line ready to take home victory: Hugh 'Kibbling' Johnston from Vancouver BC, Luca Coleman (Hopkin Racing team rider) from Sydney NSW along with Owen Davies and Henry King from Canberra ACT. It was definitely an MA15+ final as Kibbling decided to show off a little and run the finals in a g-string.
Kibbling had been looking fast all day, he had won all his heats and was always the first into the corner and ran every run clean, until the finals. Kibbling was way out in front coming into the corner but had a little too much speed when he threw down an impressive (yet disturbing in a g-string) toe-side pre-drift. However the 3 other racers also had a little too much victory on their minds and scrubbed out. It was a scramble for boards and Kibbling was the quickest back on the road to take a wheel's-length victory in front of Henry, followed closely by Owen and Luca.
Hugh 'Kibbling' Johnston decided to show off in the finals by racing in a g-string
The event was run smoothly. There was excellent communication from the bottom of the hill all the way to the top via radios to secure the track and make sure it was safe to run heats without any traffic. All the locals were stoked to see people ripping down the hill on skateboards and were more than happy to hang out and watch the action.
The biggest upset of the day was Hugh's crash after the finals: After he crossed the finish line he wasn't paying full attention to where he was going and one of his back wheels clipped the side of the road, spitting him off his board. Wearing only a g-string, there was a painful amount of road-rash in places you just don't ever want to get it. He will definitely be feeling that one for a few days.

Big thanks go out to Owen and Henry for putting on the event and also to Adrenaline+ for supporting the event with prize packs.
Also big thanks go out to Manchild, Melissa, Michelle and Jacko for manning the radios to ensure everyone had a safe run down the hill, and also thanks to Blackwood for supplying 'Pappa Smurf' to shuttle the crew up and down the hill all day.
HUGE thanks go out to all the crew who showed up to SHRED THE GNAR!
The appropriate amount of gnar was definitely shredded on this day. Well done to all who raced.
This is what happens when you race in a g-string
Here are the full results:
1. Hugh Kibbling
2. Henry King
3. Owen Davies
4. Luca Coleman
5. Gabe Gwynne
6. Alex Martin
7. David Blackwood
8. Colin Beck
9, Ben Hay
10. Ben Cross
Words by Jackson Shapiera
Photos by Chris from Canberra