Photo: Sanchez Gogh
For those of you who don't know, Adelaide is home to some of the raddest hills in Australia. The city itself is small, flat and quiet, but on the outskirts of the city it's not hard to find some gnarly, fast, windy hills that are now attracting downhill skateboarders from all over the country.
On the weekend of the 1st of October 2010, SAGRA (South Australian Gravity Racing Association) hosted the first sanctioned downhill race in South Australia. It was a two day event on Collingrove Hillclimb track and brought riders from Sydney, Queensland, and even as far as Western Australia. It was a great excuse for everyone to pack their skate bags and spend a few days ripping with Adelaide locals Michael Bowditch and Leigh Griffiths before racing against Australia's best.
On Tuesday the 28th of September, Luca Coleman and myself flew down to get the early bird sessions in before the rest of the crew showed up. We were met by our mates Leigh and Bow and they took us out to shred all afternoon. By the Thusday night Bow's house was filled with crew from around the country ready to sample some gnar. We were joined by Queenslanders Ash Donaldson, Josh Evans, Steve Daddow, Jason Wright and fellow Sydney Shredders Gabe Gwynne, Ben Hay and Cam Kite. Needless to say it was one epic crew with the most maximum amount of shredding about to take place.
Spending a few days skating Adelaide hills improves rider skills greatly in such a short amount of time, and with the entire crew pushing the limits of their abilities and frothing on the level of riding it was apparent that everyone was really stepping it up and ready to kick some ass at the weekend's race.
Sydney rider Kamakazy battles hard with Adelaide rider Leigh Grifiths. Photo: Nick Bart
SAGRA had put a lot of effort into getting this race happening. The road we raced is a private hill climb road used for racing cars, so the steep drops and banked corners made it an epic race track for downhill. The schedule allowed warm up runs for all riders in the morning to get used to the gnarly little track before throwing riders into random race-to-qualify heats to sort out the starting brackets for the finals on the Sunday. There were plenty of spills and carnage as riders tried to negotiate the tight turns and steep sections of the track, and also trying to figure out how to race the hill proved to be difficult as the narrow track gave limited passing spots. The bottom corner of the track as also a do-or-die section, with a fast steep drop into a tight 90-degree right hand turn. What made this corner hard was the pavement in the breaking area - there were several pavement changes, rough areas, a huge slab of concrete and many haybales forcing a bottleneck into the turn. Fast riders were coming in at around 60km/h, and at those speeds the track seemed a lot narrower than it was.
Alex Martin made the trip from Sydney to get amongst the action. Great to see you there buddy! Photo: Lea Shapiera
There were a lot of different riding styles on the track and it was very interesting to see how each person attacked the hill, mixing it up with footbreaks, slides and checks. During the first day everyone was coming un-stuck on the last corner trying to hold it together, The surface was uneven and slippery and caused a lot of mayhem. During one of the last race-to-qualify heats Ben Hay made a lot of heads turn in a race against Steve Daddow. They were pretty much rubbing shoulders the whole way down the track and swapping the lead, which forced both of them to hit the bottom corner faster than ever. Ben was in the lead and broke tuck to throw down a footbreak, but instead got a mega wobble and nearly ate it. Somehow he managed to get his foot back on the board and was forced to throw a slide to keep the speed in control. Steve had no where to go and just had to punch on the brakes behind him, Ben pulled it back in and stuck the line, After watching that the crowd went nuts with excitement and made everyone want to push it harder and try to slide into the bottom corner.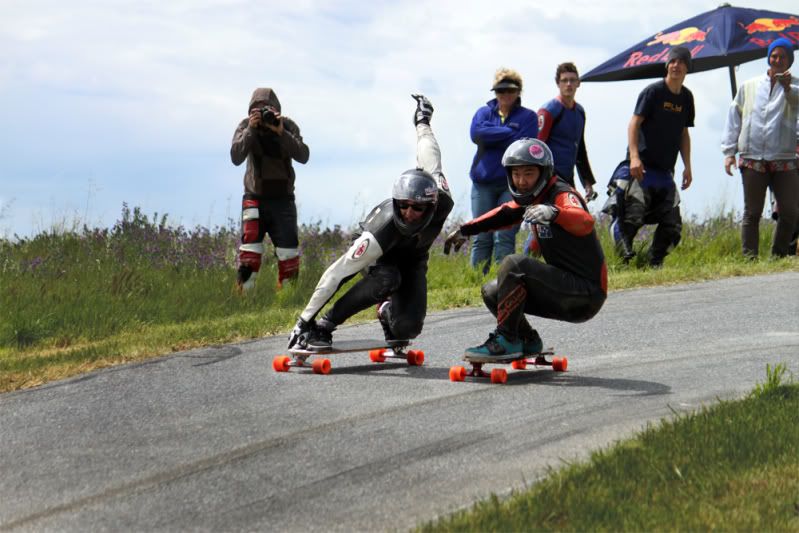 Luca Coleman (Sydney) and Michael Bowditch (Adelaide) riding tight in the semi-finals. Photo: Nick Bart
After a good rest that night everyone came back recharged and ready to shred. Race tactics had been planned out and riders were ready to attack the hill at full pace. After a few practice runs we were back into the final rounds of qualifying before the finals. These heats showed a lot more progression from riders as heats started to become tighter with riders ripping through the track much faster than the previous day and much closer than before. With that finished it was time to move onto the elimination tree. Two-man heats with only one moving on.
There were many upsets with riders eating it on the last corner with the person behind sneaking through, and there were many tight finishes that left only a wheel between 1st and 2nd.
Most of the crashing was done at the final corner, and by far the worst one would be between Leigh and Kam. Kam had pushed out in front with Leigh following close behind. They battled hard down the track and Leigh popped out infront coming down the last striaght into the final corner. Kam was close behind and jammed on the brakes just as Leigh did, however Leigh hit a crack in the road and got spat off his board while Kam ploughed right into him and face planting right into the road, popping both his shoulders out. Somehow he managed to get up and stumble across the line with his board to move onto the next round. Thankfully Kam is a professional shoulder dislocator and is well trained in popping his own shoulders back in so he was not hurt, Leigh was a little shaken up but was also uninjured (minus a mega corked leg).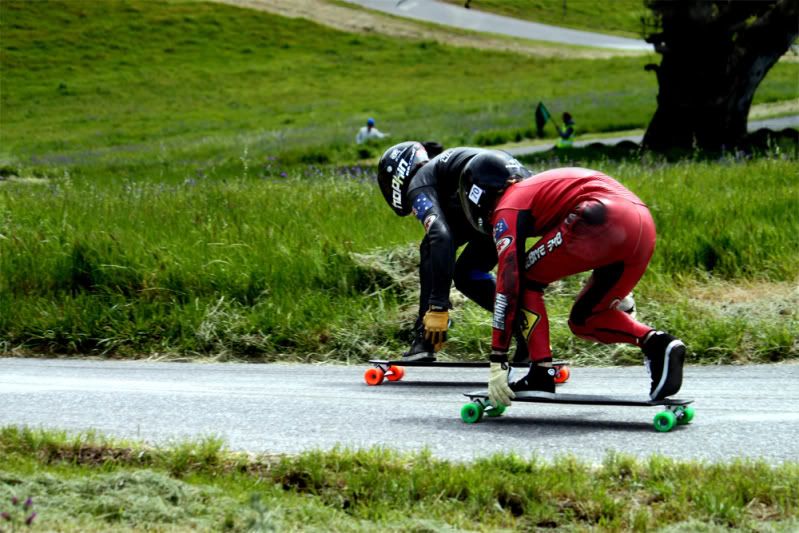 Ben Hay leads Corey Leeson through the tight track during a Race-To-Qualify heat. Photo: Nick Bart
After some heavy battles on the hill there were 4 riders left racing for the 2 spots in the finals. It was myself vs Ben, and Bow vs Luca. I pushed out hard against Ben and made sure i stuck all my lines in the top section to get ample speed and distance in front of Ben coming into the last corner. As we both dropped down the last dip before the final bend i looked back and saw i had enough room to slide a bit more to take the corner safely. Luckily i didn't blow it but cam damn close to clipping the bails during my slide, and managed to move onto the finals.
Bow and Luca were mixing it up in their heat swapping the lead and riding tight, with Bow coming into the lead on the final corner. Unfortunately he did not slow down enough and slid out on the last corner with Luca charging through and securing the last spot in the Finals against me.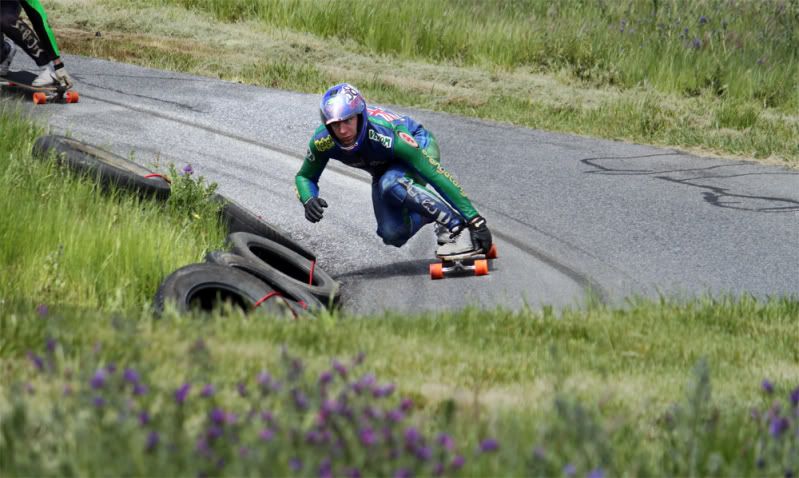 Hopkin Racing rider and Orangatang Ambassador Jackson Shapiera negotiates the steep banked corners. Photo: Nick Bart
It was an honor to be up against Luca in the finals, we skate together a lot at home and over the past few weeks i have seen some serious progression in Luca's riding, and i was actually worried that i might not make it down the hill first. We had done some practice heats together and he was riding really tight and fast, so when it was go time for the race i pushed off as hard as i could to get good lines through the first section. However it did not match up to Luca's powerful mongo push and he took the prime spot for the first corner. It then turned into a game of catch-up as i took my time drafting and building speed for the pass. As we dropped down the right hand sweeper into the wall-ride section it was time to put on the boost and leave Luca in the dust. I was able to pass with enough speed to come into the bottom section ahead enough to brake solidly and take it smooth through the corner. Luca was hauling ass behind me to try and catch up however he lost traction and slid into the hay. Both of us were super stoked, Ben had won the consi so Sydney riders had swept the podium. Tim hills had taken the podium in the Novice Class followed by Bentley Anderson in 2nd and Lawrence Lombardi in 3rd.
It was a great day, and it was epic to see how many riders had progressed over the course of the weekend. Everyone was stoked they got to race and everyone had a good time. The SAGRA crew and Nick Duffield had put in so much effort to get this race happening for us, and big sponsors like Daily Grind and Cre8ive Sk8 threw down lots of goodies for the podium finishers. If it wasnt for people like them we wouldnt have such rad races like the Collingrove Cup.
The party then moved back to the city, with a few people flying home and others celebrating an awesome weekend, but all around super stoked had filled the air at Bow's pad as the trip was still not over for some. We all got a good sleep in and then were back out to the rad hills of Adelaide. Most of us were tired from a full week of shredding but our stoke for the epic hills pushed us forward and we continued to shred the gnar for another two days. Corkscrew was on everyone's mind and thats where we shredded. This hill has got to be one of the funnest roads in all of Australia, it's not the longest road but has heaps of flow and you can take it at any pace you want - slow and steezy or fast and gnarly. Watching crew ripping the hill stand up styles and no hands was epic. Usually hills like this scare people from trying to pull fast stand up slides but the riders on the hill that day were comfortable with their skills and were shredding, also watching everyone ride in a group and steezing it up big time was enough to say it was one of the best sessions ive had in Oz.
We were all sad to be leaving Adelaide after so much shredding but we were all so stoked to have spent time there with good mates and pushing the limits of downhill skateboarding on some of the best hills the country has to offer. Big thanks to Bow for letting us all crash at his house and another big thanks to Leadfoot and Judge K for driving shuttles for us. Once again it was an epic trip and i cant wait to get back there to shred the gnar!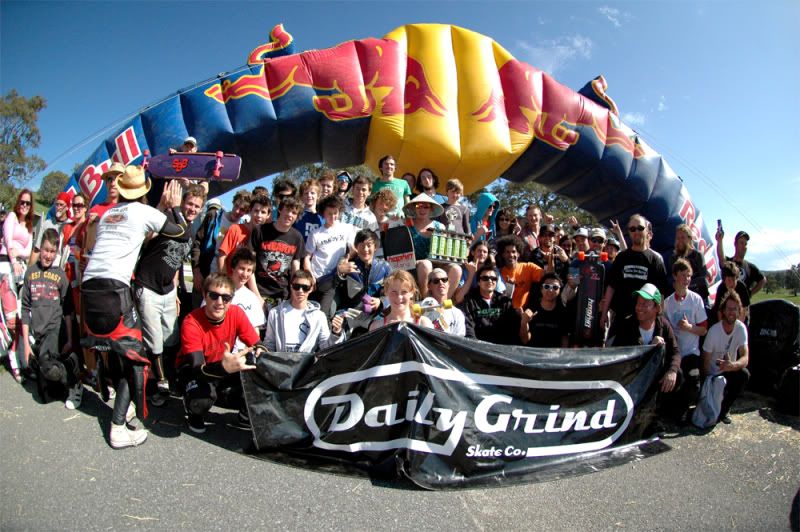 There was a huge turn out for both the Novice and Pro divisions. Big thanks to Daily Grind for supporting the event!
Words by Jackson Shapiera
Photos by Nick Bart, Lea Shapiera and Sanchez Gogh